Indie rock group, Foals first formed in 2005 and have been releasing new tunes and touring steadily ever since. A group of English rockers from Oxford, they've been quickly rising on any must-listen-list in their own country and abroad.
Their last show in Toronto was in November 2016 at Rebel. I was lucky enough to be in attendance before they went back across the pond. The show itself was explosive. It was a sweat dripping, foot stomping, head banging hell of a time. Reeling from the experience, I knew I had to let my fellow indie music enthusiast know about this impressive group that is now becoming one of my favourites.
Role Call:
Discography:
Studio Albums

Antidotes: 2008 – (Transgressive/Sub Pop)
Total Life Forever: 2010 – (Transgressive/Sub Pop)
Holy Fire: 2013 – (Transgressive/Sub Pop)
What Went Down: 2015 – (Warner Bros.)

Live Abums

Live at the Royal Albert Hall
Sound:
Describing the Foals' sound to a friend isn't easy. Keeping to traditional alternative rock standards, their instrumental relies on hooking lead guitar riffs and floor shaking percussion. Important to notice their use of the keys, which is subtle at times but gives tracks added substance when needed. All that is tied together by Philippakis' vocals that will commonly go from dossal and lulling to roaring, heart-pounding chants at the drop of a hat.
Early in their musical career their sound didn't stand out much from other impressive indie rock groups like Block Party or Bombay Bicycle Club. However, as they've continued to develop, their sound truly became unique. Foals are very much a live band. Not to say their songs aren't enjoyable when you are lounging in your lazy-boy, but ask any Foals fan and they will tell you they are at their best in front of a crowd. They're performers; it's what they're good at. I think that the most notable progression in the Foals' sound from their earlier career, aside from an improvement in overall quality, is their focus on creating tracks that fit their live sets. The effect is, beside increasingly spectacular shows, that even if you are listening from the full back position of your favourite recliner, you will still get the authentic head-bobbing vibes of being in the front row.
From album to album Foals are a perfect example of an evolving sound that manages to progress in creativity and maturity but never looses the unique style that their fans flock to. Whether it's the lighter-waving track Blue Blood or My Number's ear-worm chorus, Foals' variety of sound and the spectrum of feelings they can produce have something for every indie music fan.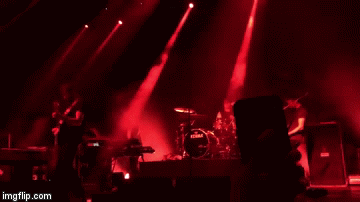 What to Look Forward to:
After finishing up their last tour at the end of 2016, it will be six months before the Foals play another major live venue (I smell new music brewing) and that will be out in Portugal. They have not yet announced any further touring details, but as soon as they do you guys will be the first to know. Until then I suggest checking out their latest album. What Went Down is a true testament to the Foals' progression as an indie rock group over the last decade. Since 2005 they have released a new album almost every 2 years, so I wouldn't be surprised if we hear some new stuff from them late this year or early 2018.
If these guys weren't on your radar before, I hope they are now. Check out this playlist of my favourite tracks.
Stay tuned for next week's post and always be sure to stay loud.